Halfway between Oberkampf and the Canal Saint-Martin, the Saint-Ambroise district is the peaceful and residential corner of the 11th arrondissement.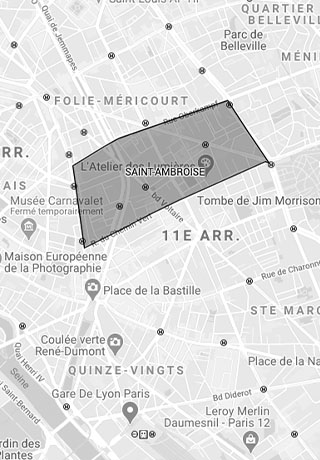 Centrally located and surrounded by the liveliness of the surrounding streets, Saint-Ambroise is a great place to live. We particularly appreciate its historical and cultural position as well as its pleasant green spaces such as the Maurice-Gardette square. On Boulevard Voltaire, you will discover the imposing Saint-Ambroise church, which gives its name to the district. This monument built by the architect Théodore Ballu in the 19th century mixes the neo-romanesque and neo-gothic movements and marks its presence by its enormous bell towers.
For an original escapade, we like to go to the Atelier des Lumières, offering immersive exhibitions. Housed in a former foundry, it is a guaranteed journey through the artists' paintings that cover the walls, floors and ceilings.
Saint-Ambroise is both a cultural and family district where life is good.