Located on the edge of Bastille and the Père Lachaise cemetery, the Roquette district has become the heart of the Parisian nightlife.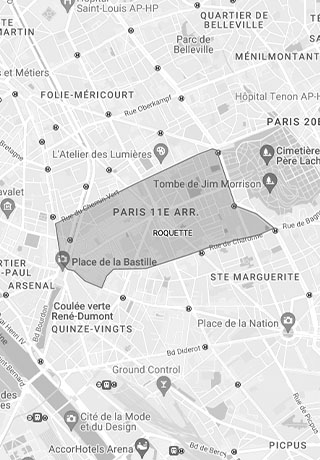 Formerly a penitentiary district, Roquette now has a radiant face, popular with young people for its friendly and trendy atmosphere. With its maze of small, typically Parisian streets, it is home to trendy galleries and countless bars and restaurants that attract night owls and art lovers. Known for its festive atmosphere, rue de Lappe was popularised in the 1980s by great artists and musicians, giving it its title of Parisian nightlife mecca. A parade of mythical establishments can be seen there, inviting Saturday nights to enjoy its unique atmosphere. Inhabited by the square of La Roquette, the district benefits from a splendid green setting. We particularly appreciate its flowerbeds, its palm trees, its pretty belvedere and its majestic cascading fountain.
A lively and festive district ideal for a stroll by day or a night out.