A small district of the 14th arrondissement nestled on the outskirts of the Montparnasse train station, Pernety has retained its intimate character.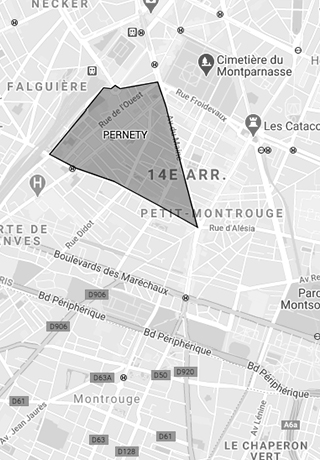 Essentially made up of streets and pedestrian lanes beautifully decorated with flowers, the Pernety district breaks away from the purely Haussmannian style and reveals charming brick buildings. With its commercial and authentic character, it is easy to immerse yourself in its unique atmosphere.
In the Rue des Thermopyles, you can wander between the old workers' houses, the overflowing wisteria and some works of street artists, which make this place one of the most colourful in the capital. In Place de Séoul, we discover the architectural complex designed by Ricardo Bofill in 1985. A veritable glass amphitheatre, the place contrasts with the neighbourhood's universe, imposing its monumental style in all discretion. The district is also subject to an ecological project, with the City of Paris planning to plant an urban micro-forest on the Place de Catalogne by 2024.