Located in the 19th arrondissement, the Flandres district enjoys an arty atmosphere thanks to its proximity to the Ourcq canal.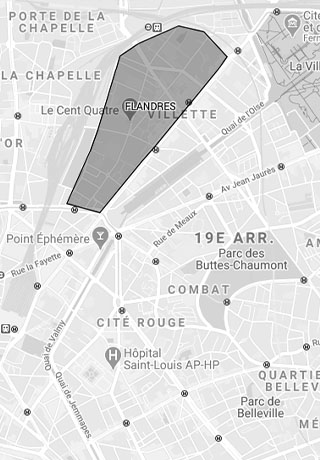 Famous for its renovated post-industrial buildings, the Flandres district is known for its sculptural architecture, such as the Flandre Organs. Designed by architect Martin Van Trek, they are over 120 metres high and impress with their mirror symmetry. The district is a veritable canvas for artists who express themselves on the facades of buildings, street furniture and bridges, offering ephemeral and sometimes monumental works of art in the streets.
Housed in the city's former funeral parlour, the Centquatre, a space for cultural cooperation, hosts the annual Circulation festival, dedicated to young European photography. The district is also home to numerous food shops, organic grocery shops, summer terraces and local wine shops, creating a friendly, warm and pleasant environment for the residents to enjoy.
Resolutely modern and urban, the Flandres district seduces by its vitality and its ambient multi-culturalism.