Located in the east of the 9th arrondissement, the Faubourg-Montmartre district is a real place of entertainment offering rich and varied shows.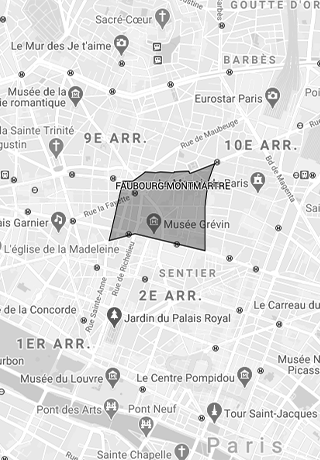 Nestled a stone's throw from the Grands Boulevards, the Faubourg-Montmartre is a lively neighborhood, renowned for hosting a large number of theaters and theaters. Established in 1869, the neighborhood is home to the Folies Bergère theater, listed as a Historical Monument. This eclectic building has become a real institution and has welcomed great figures of the stage such as Charlie Chaplin, Josephine Baker or Dalida.
Rue du Faubourg-Montmartre, the passage Verdeau, named after its creator, is one of the most charming of the capital. A unique place to stroll around, it is home to many antique shops and unusual boutiques. Inviting you to venture under its elegant glass roofs combining metal, wood and marble, this passage allows you to reach the Boulevard Montmartre and the Musée Grévin. Attached to making history alive, the latter handles the art of the true semblance to perfection and takes us to meet various personalities.
Emblematic places for a district with a historically festive atmosphere, where the light and carefree atmosphere of the time still reigns today.