At the gates of eastern Paris, bordering the 20th
arrondissement, lies the urban yet peaceful commune of Bagnolet.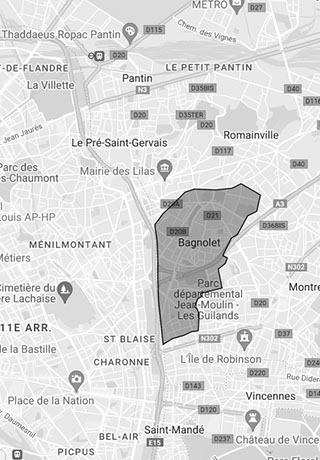 Bagnolet, a town in the Seine-Saint-Denis region, is developing and asserting itself as one of the most dynamic towns in eastern Paris. Urban planning projects such as the Grand Paris are contributing to its renewal, with a city centre undergoing major changes. Today, the city offers a modern and attractive living environment.
Among its assets, its remarkable vitality! From the Bel'Est shopping mall to local shops and lively markets, you have everything you need to liven up your day. Thanks to its many parks, the city has a green environment to practice sports and activities of your choice. Its modern business districts, such as the Mercuriales towers, and its residential areas make Bagnolet a pleasant place to live, a few steps away from the Ménilmontant and Père-Lachaise districts. Renowned for its street art and the festival dedicated to it, the city is also home to numerous buildings with coloured and artistic facades, much to the delight of local residents and street art lovers.
Bagnolet is a city with a strong identity, its dynamism and its green spaces charm families, young workers and seniors looking for tranquillity.
Photos credits ⓒMarie-Yandé Fall