Protected by the Sainte-Victoire mountain, dear to Cézanne, Aix-en-Provence is a historic spa town with a rich architectural heritage. Elegant and authentic, it offers an ultra-privileged living environment.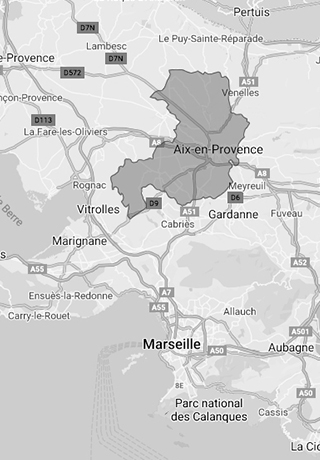 The sub-prefecture of the Bouches du Rhône region, it forms the Aix-Marseille Provence Metropolis with 35 other municipalities. Surrounded by a wooded and preserved countryside, where one can find authentic Provencal country houses, Aix-en-Provence includes the surrounding villages: Les Milles, Luynes, Puyricard, Célony, Couteron, Les Granettes, as well as recent neighborhoods, such as La Duranne.
This city is a real open-air museum. Private mansions with beautiful sculpted doors and windows, balconies and ironwork, mossy fountains, a pedestrianized city center, courtyards and squares shaded by century-old plane trees… give it its charm and postcard look! Whether it's the Granet Museum, the Aix-en-Provence Festival with its concerts, operas and workshops or the nightly screenings of the "Instants d'Été "in the parks and gardens … Aix-en-Provence offers a stunning cultural offer. But the city is also known for the quality of its educational and research institutions, and it is also a digital metropolis in full development. It attracts many young tech companies and a lot of students.
As for transportation, the city is served by regional and national buses. The TGV Méditerranée train station is 15 minutes from the city center and the Marignane airport is 25 minutes away.
Straddling tradition and modernity, between sea and mountains, the aura of Aix-en-Provence blends elegance and authenticity, and offers an ultra-privileged living environment.