The commune of l'Étang-la-Ville, located in the heart of the Marly-le-Roi forest in the Yvelines department, offers a rural setting only 20 km from Paris.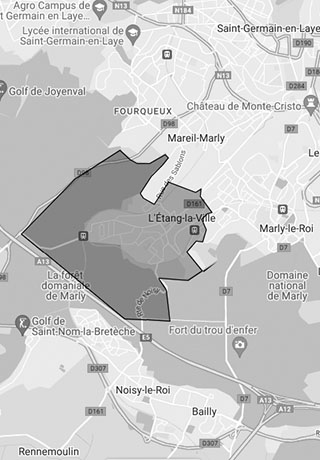 With 5,000 inhabitants, l'Étang-la-Ville is a human-sized commune where a village spirit reigns, enlivened by the shops in the main street and the market held twice a week. Its steep, tree-lined streets, its period or more modernist individual houses, often set on beautiful plots of land, give rhythm to the urban landscape of this peaceful setting in the Marly forest. With direct access to the centre of Paris by public transport, l'Étang-la-Ville promises a quiet daily life with the advantages of urban life for those who want to leave the hustle and bustle of Paris.
A town with the charm of yesteryear that offers a bucolic living environment thanks to the presence of the Marly national forest.